10 Birthday Party Checklists That Every Party Needs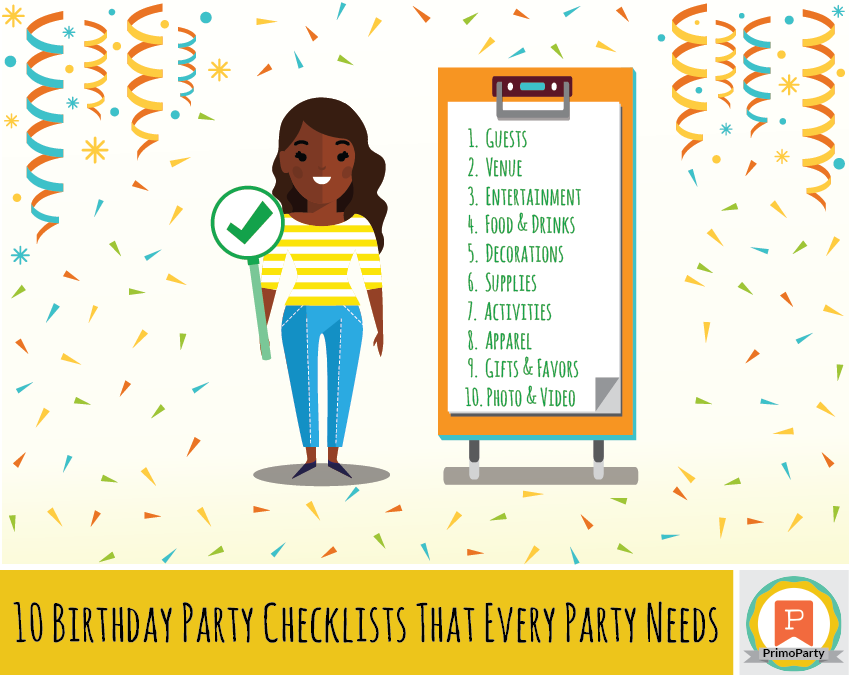 Save effort, time, and money by organizing your party tasks into smaller checklists, such as supplies, entertainment, and food. Staying organized while planning your next epic bash is a breeze with these 10 birthday party checklists.
1.  Guest Birthday Party Checklists
Having a checklist can be great when managing your guestlists. Create a list of items you need. These could be invitations, thank you cards, or materials for making these on your own.
A guestlist with important information about guests is also a great tool. List the names of the people you're inviting. Check them off when you've sent their invitation. Add a column to help track their RSVPs.
After the party, add a column for thank you notes; check off the guests as you send the thank yous. You can maintain this list on paper, or on a spreadsheet.
2. Venue Birthday Party Checklists
Booking a venue can feel like an intimidating task. Checklists can make this process a lot easier. List the party places you are interested in. Check them off as you contact them for estimates. Leave a column where you can track additional rental fees for tents, chairs, and tables.
Once you have all of the estimated cost information, you can make a comparison and narrow your list down. A checklist is very valuable in a task like this. Locations and pricing are all being tracked in one convenient place.
3. Entertainment Birthday Party Checklists
Entertainment is a huge category when it comes to parties. Keeping checklists will help you plan entertainment in an organized and methodical way. If you are interested in renting an item such a bounce castle, a checklist will help you track vendors and their prices.
Make a list of any performers you are interested in booking for your party. Check them off after contacting them, and add details about their fees and what they require from their clients. Entertainment in this category includes DJs, magicians, clowns, and other costumed characters.
4. Food and Drink Birthday Party Checklists
Once you've decided if you are going to prepare the food yourself or hire a caterer, you can start making lists. If you're interested in a caterer, use the same method described above. By comparing rates and services, you can easily make a decision.
If you are going to be handling food and drink yourself, make a list of everything you would like to purchase. Research prices, and add this information to the list. For more expensive items like wines and cheeses, this research is very important.
After your list is filled in, you can make your final decisions about what items you will buy. When you have a complete and final list, you can just take it to the store with you. This will make the shopping experience much easier.
5. Decoration Birthday Party Checklists
Going to a party or craft store without a shopping list of some kind can be hazardous to your budget. Start planning the decorations well before the date of the party. Will you be making them, or buying them?
Make a list of everything you will need. Compare prices, and list possible substitute products off to the side. Once again, bring this final version of your list to the store with you. It will help you stay on theme and under budget.
6. Supply Birthday Party Checklists
These supplies are the essentials for the party. If you need to supply tableware, list all of those items. Plates, napkins, trays, forks, knives, spoons, cups, pitchers, and coolers should all be on this list. There may be other items you need as well, such as tablecloths or placemats.
List the quantity you will require next to everything. Research pricing to see if buying or renting is more cost effective. Once you narrow your list down, you can do your purchasing.
7. Activity Birthday Party Checklists
No list of birthday party checklists would be complete without taking the activities into account. Parties are all about fun and games, after all. What activities will you be setting up?
If there are crafts for kids, you will need supplies. List the ones you think you will need. Do research online and make your final decisions. Board games such as Twister can be fun for all ages. List the games you are considering. How many packages will you need? The checklist will help you figure out what activities will be practical for the event.
8. Apparel Birthday Party Checklists
Will birthday hats be worn? Does the birthday girl want tiaras for herself and her friends? Are people going to wear other items like floral leis, over-sized bow ties, or novelty sunglasses?
Making a list can help you figure out which items will fit your budget, and your guests, the best. It will allow you to see the pricing and logistics that will go into special apparel. This birthday party checklist will help you clarify the plans, and visualize the end result at the party.
9. Gift and Favor Birthday Party Checklists
Are you planning to give a special gift to the birthday boy or girl? A checklist will help you compare options. Will there be prizes for people who win games? Again, a checklist will help you iron out the quantities and costs of these items.
If you intend to give out party favors, list options and compare prices. Cross reference with your guest list showing RSVPs. Then you can purchase supplies with confidence.
10. Photo and Video Birthday Party Checklists
Figure out what you want to do to create lasting images from this birthday party. If it is a milestone birthday like a Quinceanera or Sweet 16, perhaps you want to hire a professional.
If not, decide what supplies you will need. Will you create a specific selfie area, with a backdrop or torches? That will require supplies. The birthday party checklists system will once again allow you to figure out pricing and you can confidently make decisions within budget.
This category may also require decisions that have no impact on your budget. Do you want to set up a Facebook page for the party? Figure out the steps you will have to take and list them. These might include restricting the people who can view the page to your guests. Once you have the steps laid out, simply check them off as you go.
Checklists can be invaluable in organizing tasks. When planning a party, it can be easy to get carried away with ideas. These birthday party checklists will keep you right on track for a very happy occasion indeed.