How Homemade Paper Party Decorations Make Celebrations Special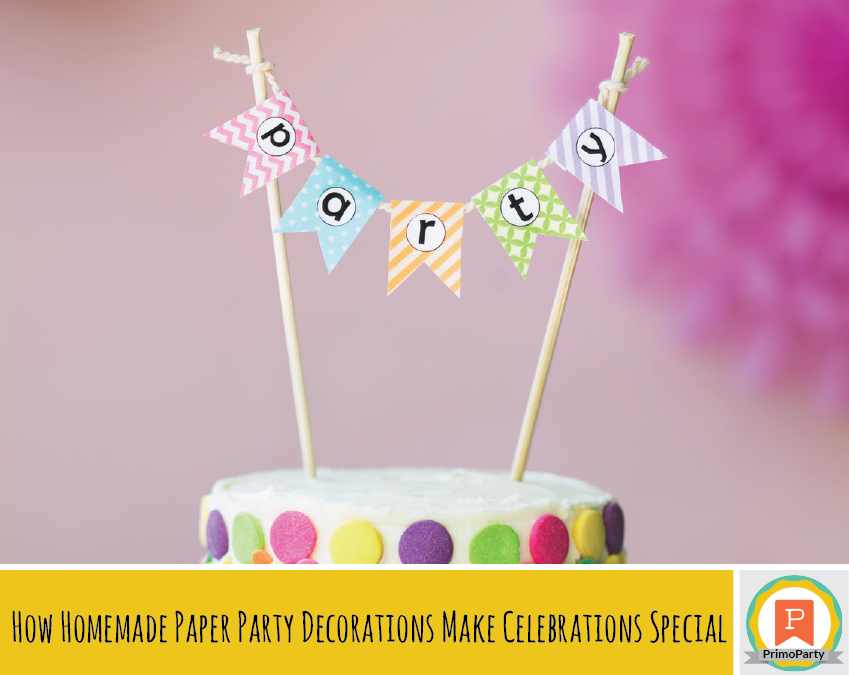 With another special occasion coming up soon, you want to commemorate it in a fun and festive way. This year, skip the mass-produced decorations on the chain store shelves and instead give your loved one the distinctive celebration they deserve. Show them that you care by creating beautiful homemade paper party decorations that will make your event both stylish and memorable.
Paper decorations are surprisingly quick and simple to make when you use time-saving tricks like printable templates. With DIY party decor, you can make many more coordinating items than you could find in a packaged set:
Banners
Cupcake Toppers
Cupcake Wrappers
Water Bottle Labels
Tent Cards
Straw Toppers
Centerpieces
Place Cards
Favor Tags
Party Hats
Still not convinced? Here are a few more reasons why homemade paper decorations often outshine standard store-bought trimmings.
Stand Out From The Crowd
One of the most exhilarating moments of any event is when guests arrive and get their first glimpse of the party space. Handmade paper banners, centerpieces, and treat tables decked out with coordinating embellishments can give your guests that over-the-top "wow" reaction. Party-goers have seen manufactured decorations over and over, but your one-of-a-kind pieces will be refreshingly different, capturing attention and generating enthusiasm.
Make Your Decorations Unique
Speaking of enthusiasm, imagine the honoree's delight at a party that emphasizes their individuality. For example, a child with an unusual name, favorite color, or hobby would be thrilled to have it featured in the decor. For added personalization, you could create place cards with the name of each guest. Little touches like these create a welcoming atmosphere that makes every attendee feel important.
Since you are making them yourself, homemade paper party decorations are fully customizable. You can scale the size of the items up or down to fit the dimensions of the room, and you can choose unique images that perfectly express the party's style. Another perk is that your festivities could highlight the trendiest color combinations and themes that have not yet hit the store shelves.
Nail Your Party Budget
By their nature, homemade decorations tend to be easier on the wallet than store-bought products. For instance, you can buy inexpensive colored paper in bulk at craft stores, print shops, or office supply stores. Saving money on decorations allows you to splurge on other budget items like food, party clothes, and entertainment.
Be Kind to the Earth
Not only do paper decorations spare your wallet; they may also be gentler on the environment. Because you choose the supplies, you can select recycled or sustainable materials rather than the plastic-coated products that are so common. After enjoying the decorations at the event, take them down and recycle them. It is environmentally responsible and a nice conservation lesson if children participate in the post-party cleanup.
Have Fun Creating
Above all, it is fun to make homemade paper party decorations. It gives you an excuse to use your creativity to create a charming and photogenic setting for the upcoming occasion. Go ahead and get started! Imagine the bright smiles of the birthday guest of honor, who will be delighted that you took the time to make their day extraordinary.