How to Shorten Your Birthday Party Supplies List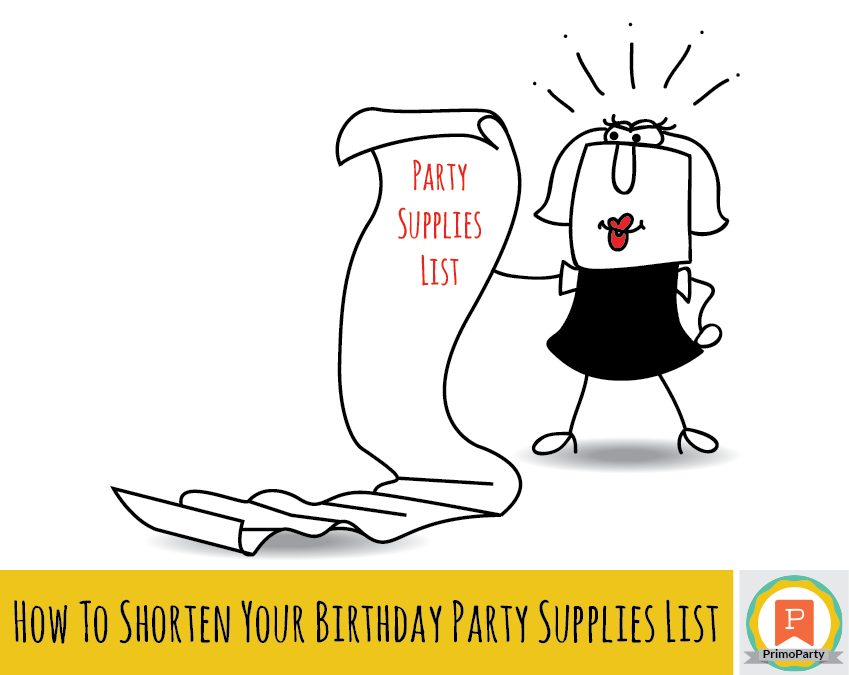 Sometimes the incidentals on a birthday party supplies list can add up, costing a lot more than you would expect. Things like disposable plates, napkins, and utensils can be pricey, especially if you buy licensed themes like 'The Little Mermaid'. Cups, pitchers, tablecloths, and serving utensils can also be costly, not to mention the expense of platters or trays for food. Luckily, there are quite a few clever ways to pare down the cost of these extras.
Trim the Tableware
You can do away with utensils altogether by going with sophisticated finger foods for adults and bite-sized servings for kids. There are a lot of fun finger foods that don't take a lot of time to prepare and are easy on the budget. For example, grape and banana fruit kabobs are a fun way to serve fruit, and they can be frozen if your party is taking place during the hot summer. Alternate banana slices with red and green grapes on individual skewers for a festive and delicious snack.
Guests love to try a little of each of the foods being served, so make them some hamburger sliders as the main course. You can use rolls cut in half with little hamburger patties and tiny lettuce leaves and tomato slices. Let each guest add their own ketchup, mayo, or mustard for a hands-on experience. Another winning main course is cocktail wieners wrapped in biscuit dough and popped in the oven. Yum!
Downplay the Drinkware
Beverages are another part of your birthday party supplies list to save on. Drink boxes are a fuss-free way to serve drinks without the bother of pitchers, cups, and straws. They come with their own little kid-sized straws and all you have to do is hand them out. On a hot day, juice boxes can even be stored in the freezer for a couple of hours for a cold treat to fight the heat.
An alternative is serving bottled water, either plain or flavored. A fun way to involve the kids is to pass out bottled water and have drink flavor packets available for the kids to add to their water bottles. Make the drinks extra special by customizing each bottle with cute labels. You can also buy a couple of boxes of the tiny exploding candy rocks and let partygoers add a few to their drinks for fun.
Shave the Serveware
Pre-plating is one way to do away with serving-ware, and cupcake wrappers are handy for lots of things, not just the cupcakes. You can add some candies to each paper wrapper or even make homemade caramel corn to fill them with. Caramel apples are another delicious treat. All you have to do is push wooden pop sticks inside and roll the apples in warm caramel. Put them on wax paper to dry, and you end up with a healthy and delicious treat.
Shortening your birthday party supplies list with a little creativity and imagination is a savvy way to cut costs. You don't need fancy tableware, drinkware, or serveware to make your party a blast. Serving some fun snacks and letting guests help out a bit makes the food that you serve the highlight of the party. Sometimes less is more and is the secret to a party's success.