10 Compelling Reasons to Use Kids Birthday Party Places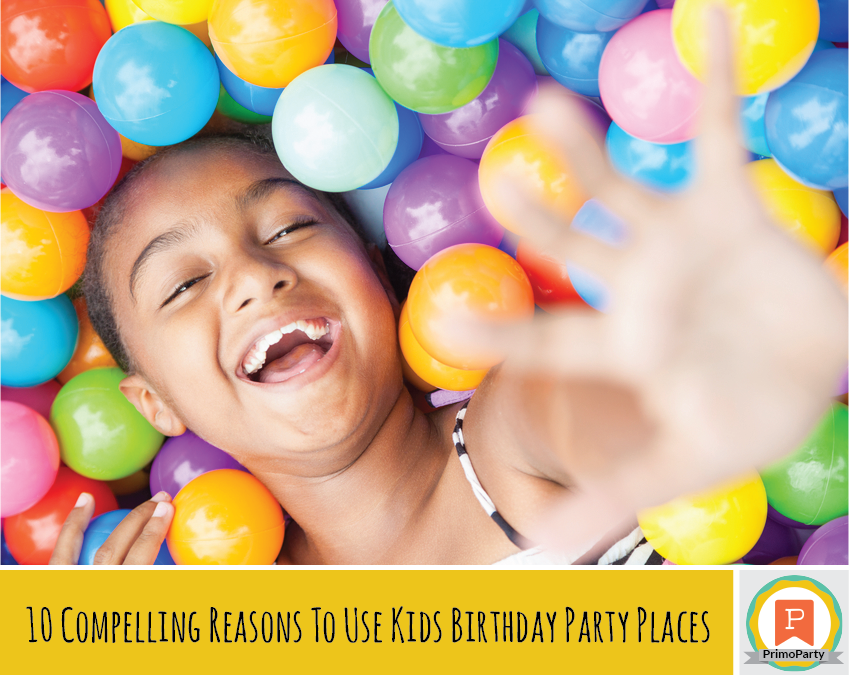 The right party venue is critical for setting the perfect scene for your kid's birthday. For many parents, having their kid's birthday party at home is the most convenient choice. However, here are ten compelling reasons why you should use kids birthday party places instead of your home.
1. Damages to Your Home
Although there is nothing cuter than a group of kids gathered for a party, they can wreak havoc on your home. Spilled drinks, broken furniture, and scuffed up floors are just a few potential damages that could happen to your home when you host a kid's party. Fortunately, most kids birthday party places are built to withstand the wear and tear that should be expected with crowds.
2. Cramped Party Space
Unless you live in a very large home, you may not have enough space to accommodate all of your guests. As you plan your guest list, remember at least one adult usually accompanies each child, and they may bring younger siblings along, too. Make sure to ask about any potential extra guests when your guests RSVP. This way, you can avoid overcrowding by choosing appropriate kids birthday party places.
3. Fewer Party Amenities
You may be limiting your options for entertainment when you host your kid's birthday party at home. For example, you may not have access to a swimming pool for a summer birthday party theme. Many kids birthday party places also have play structures such as bounce houses that can keep your guests happy and burn off their energy. If you do decide to host at home, be aware that you will need several activities to make up for the lack of amenities.
4. Limited Party Helpers
Trying to corral a bunch of kids while fitting in all of those important birthday rituals is exhausting. As you plan your party, it is important to make sure that you will have plenty of help available. Ask friends and family members if they can commit to helping throughout the duration of the party, and consider a different venue if they can't. At kids birthday party places, there will be members of the staff who are specifically responsible for helping events run smoothly.
5. Less Privacy
Under normal circumstances, you would never let a bunch of strangers into your home. However, that's exactly what people do when they have a kid's party. It is normal to be uncomfortable with the idea of having school kids and other friends enter your private domain.
You should also be ready for guests to accidentally wander into off-limits areas such as the master bedroom. Keeping the doors locked may help, yet this may not be possible for every area of your home. For this reason, a public space may be a better option compared to hosting your kid's birthday party at home.
6. Excessive Cleaning
Getting your home company clean takes work, especially when you have little ones running about. You should expect to do some heavy-duty cleaning before the guests arrive and some light housekeeping throughout the party.
Once your guests leave, you will probably need to spend another one to two hours cleaning up the mess. Kids birthday party places, however, make this process easier. While you may have to throw away things like wrapping paper, they will have staff who handle the big jobs such as mopping the floor.
7. Lack of Parking Availability
Life in the suburbs or big city has its advantages, but parking is usually not one of them. Take a serious look at the space around your home to decide if it has enough space for your guests to park. Remember, that your neighbors should also have space available for their family and friends to park during the party.
It may also be necessary to notify your neighbors that your street will be flooded with cars. Party venues solve this problem easily because they have big parking lots designed to serve large crowds of guests.
8. Lingering Party Guests
Sometimes, guests overstay their welcome, and it can create an awkward situation when you are ready for them to go home. To compound the issue, some guests just don't seem to get the hint that you are ready for them to go. At a party venue, there is usually a set time limit in place that can help you keep your guests on track.
Depending upon the party place, it also gives guests the option to stay even after you leave. This provides a win-win situation that allows everyone to enjoy as much fun as they wish.
9. Extra Party Supply Prep
Preparing for a kid's birthday party at home is a lot of fun, but it also adds up to some extra work. Making and hanging decorations, setting up food tables, and preparing favors are just a few of the jobs you will need to do if you host at home.
However, many venues offer party packages that include services such as decorations and tableware. This can give you more time to focus on planning the parts of the party that you really enjoy.
10. Extra Party Entertainment Prep
Keeping kids entertained during your kid's party is the best way to curtail negative behavior and keep everyone in a happy mood. Yet, preparing entertainment can get very involved for a party at home.
At kids birthday party places, you should expect some of the entertainment to already be built-in. Whether your guests go skating, enjoy an in-house show or play games, you can sit back and just enjoy watching everyone have fun.
Although there are definitely some perks to having your kid's party at home, you should also be aware that there may be a few pitfalls. From damaged property to extra planning and prep work, doing it all yourself can be stressful.
Kids birthday party places can be lifesaver, especially when you are planning with short notice. By carefully considering your options along with their benefits and disadvantages, you can make the best location choice for your kid's special day.