Kids Birthday Party Invitation Wording Made Simple for Busy Parents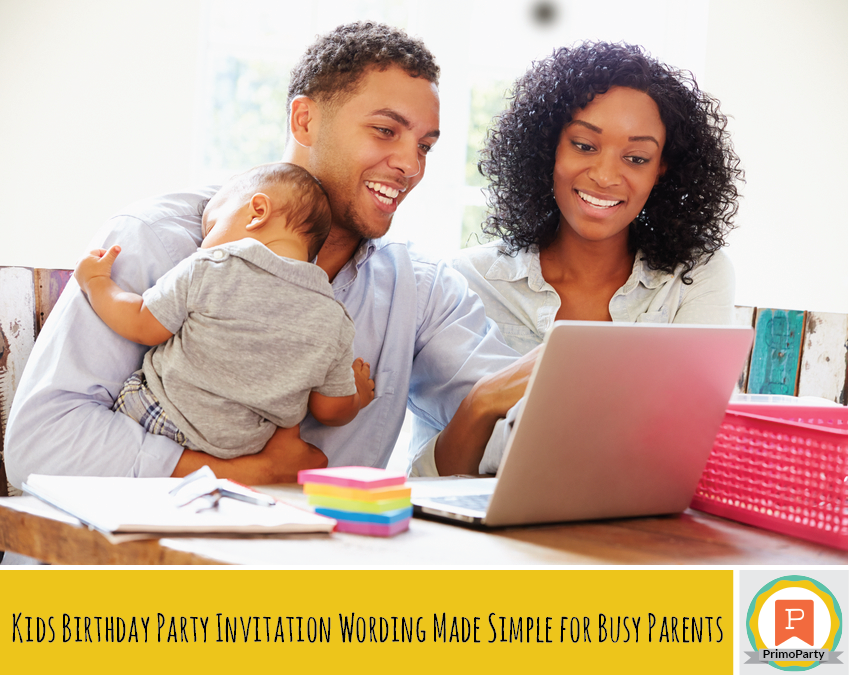 Engaging kids birthday party invitation wording is critical for making a strong first impression. Birthday invitations are the first thing your guests will see regarding your upcoming party so you want to include wording that excites and creates interest. When sending out the invitations for your kid's birthday party, make sure to include these essential pieces of information so everyone can make their plans to enjoy the special event.
Who Is The Guest of Honor?
Naturally, your guests will need to know whose birthday party they will be attending. Kids birthday party invitation wording should include your guest of honor's name. If your child has a common name, then you may also add their last name for clarification.
What Type of Occasion Are They Celebrating?
People throw parties for all types of reasons, so it is important to clarify the special event. Add colorful images of birthday cakes, candles, and party hats to give visual cues about your announcement. Kids birthday party invitation wording can also include a cute little rhyme about birthdays or simply work the type of occasion into the invitation so that everyone knows why they should come to your event. It's also a great opportunity to reveal the birthday party theme. For a pool party theme you could add a line saying something like, "Come and make a splash at Madison's first birthday party pool bash."
When is the Date and Time of the Party?
Before you fill out your invitations, make sure that the time and date for your birthday party is set in stone since your guests may have other events planned that day. Although it isn't necessary, it can be helpful to put the day of the party on the invitation so guests don't have to look at a calendar to know if it is on a weekday or the weekend.
Where is the Location of Your Party Venue?
Whether you host your party at home or at a local party place, your guests need to know where to go on the special day. If your party will be held at a nearby venue, then include the name of the place along with the address. For a party held at home, include your address along with any special instructions such as where to park. If your party venue may be hard to find, then you can also include a small map or driving directions.
How Should Your Guests Respond?
The RSVP section for kids birthday party invitation wording is often overlooked, but it is an essential part of your invitation since it will help you be completely prepared for your guests. Today, many people call or text, but you should also give other options such as sending an email or responding in person.
Put your phone number and email address on the invitation, and include your name. If guests may not know your relationship to the guest-of-honor, then include a line saying something like, "Please RSVP with Olivia's mom" to make them feel more comfortable.  Specifying a response deadline helps to increase RSVPs.
Whether you make a DIY birthday party invitation or add details to a pre-made invitation, a well-written invite will make sure your guests have all the details they need to prepare to attend your party. By taking the time to carefully plan your kid's birthday party invitations, you will make a great first impression that sets the tone for your party.